STARTERSadd
Marinated salmon 155 kr.
Avocado Salad (Vegetarian) 125 kr.
Scampi fritti (deep-fried scampi) 155 kr.
Oysters 39 kr.
Beefstouw Tartare 155 kr.
Lobster Soup 155 kr.
MAINSadd
BEEF FOR ONE

Tenderloin
#10A ca. 175 g 395 / €56
Sirloin
#12A ca. 250 g 395 / €56
Ribeye
#18A ca. 300 g 450 / €64

T-Bone
#13A ca. 500 g 495/ €71
Ground steak
#14A ca. 200 g 225 / €32
Our sirloin and ribeye come from European Angus cattle, grain-fed for 150 days which - in our opinion- gives the right level of marbling.
BEEF FOR TWO
Tenderloin
#10D ca. 400 g
Sirloin
#12D ca. 500 g
Ribeye
#18D ca. 450 g
Per person 395 / €56 by 2 people
The steak is grilled to the same degree for both of you and we served it carved.
If you don't want to share your steak with anyone, - the price is 725 / €104
ALTERNATIVES TO BEEF
Rump of lamb
#30A ca. 200 g 335 / €48
Plaice
#15A 310 / €44
Chicken breast
#11B 250 / €36
Vegetarian dish
Grilled celeriac roasted vegetables and herbs
#11V 225 / €32
Side dishes served as a main course (Vegetarian)
#20A 175 / €25
Side Dishes are included
To share at your table:
Seasonal vegetable dishes and potatoes.
- Please ask your waiter.
EXTRA:
Bearnaise or pepper sauce 35 / €5 per person.
SIDE DISHES ARE INCLUDED IN THE PRICEadd
Vegetables and side dishes to share at your table
At A Hereford Beefstouw, the side dishes play an essential role in you meal. Therefore, we set the table with tasty seasonal sides - everything is included in the price of your main course. Except the sauce.

All main courses are served with:
Seasonal vegetable dish and potatoes.

EXTRA: Sauce (Bearnaise or Pepper Sauce) 35 /€5 per person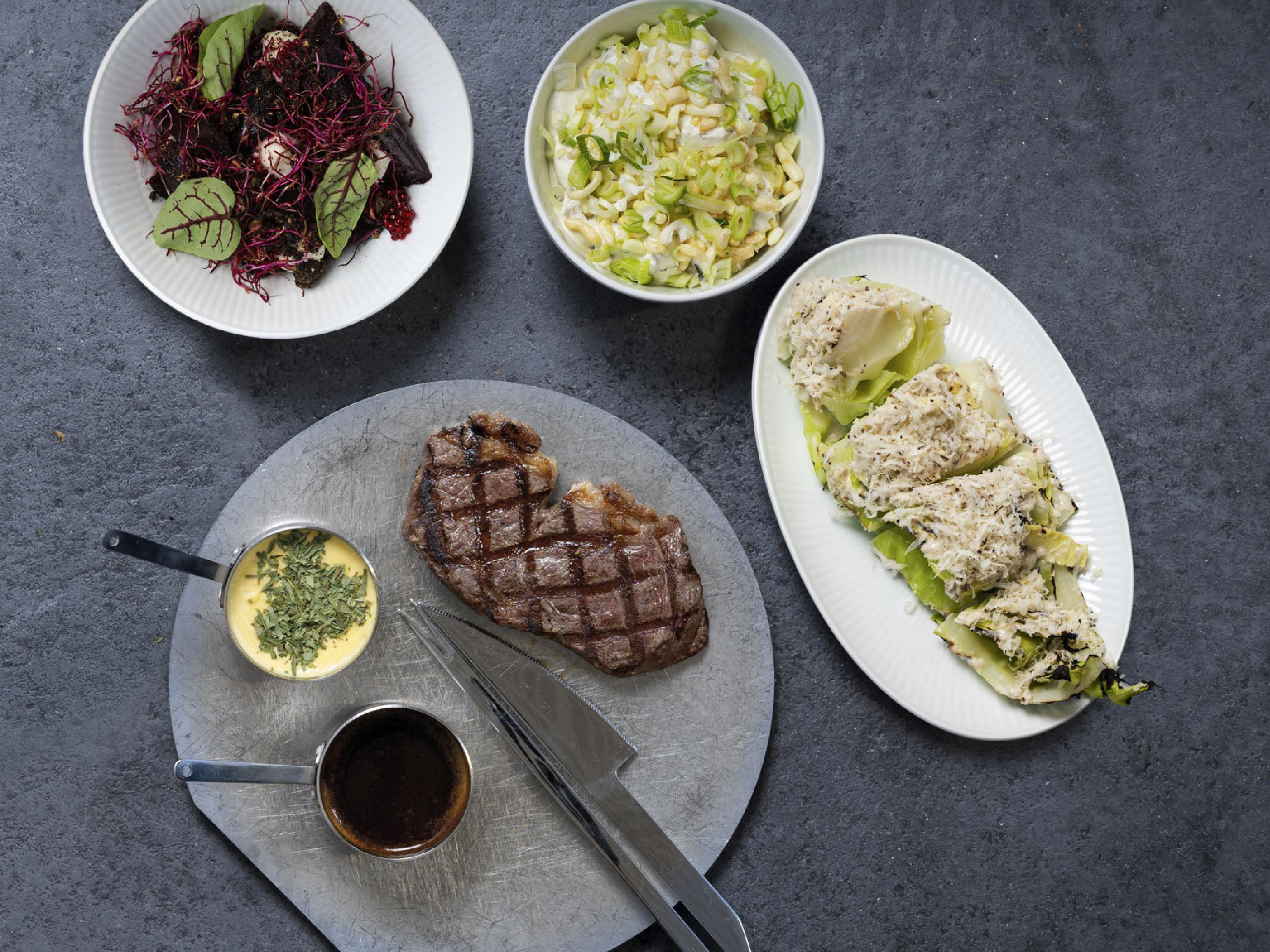 DESSERTS & COFFEEadd
Variation of chocolate and passion fruit ice cream kr. 95
Dessert of the season kr. 95
Liquorice Crème Brûlée kr. 95

Coffee (Americano) - kr. 35
Espresso - kr. 35
Cappuccino / Kaffe Latte - kr. 45
Tea - kr. 35
Irish Coffee, 3 cl - kr. 95
Irish Coffee, 6 cl - kr. 145
CHILDREN'S MENUadd
(For children under 12 years old.)

Sirloin Steak kr. 89
With French fries and greens.

Ground Steak kr. 74
With French fries and greens.

Grilled Chicken Breast kr. 79
With French fries and remoulade.
Two Sausages with potatoes, ketchup and remoulade kr. 45
Hot Corn on the Cob with cold butter kr. 39
Vanilla Ice Cream with hot chocolate sauce - kr. 32


OUR FAVOURITE MENUadd
STARTER
Marinated salmon
With avocado, lemon, crisp lettuce and warm nut vinaigrette.
MAIN
Sirloin steak, approx. 250g
or tenderloin steak, approx. 175g.
Served with a selection of shared side dishes.
DESSERT
Dessert of the season.
PRICES
All 3 courses 575 /€82
Starter & Main 495 /€71
Main & Dessert 455 /€65
Extra: Béarnaise or pepper sauce 35 /€5
Prices per person

WINE MENU
3 glasses of wine 325 /€46 per person

THE WHOLE PACKAGE
Bubbles with snacks
3-Course menu
Wine menu
Coffee with something sweet
950 /€136 per person
Prices in Danish Kroner. All prices include VAT and service.
Prices are subject to alterations and misprints.