FUNCTION'S MENUS TIVOLIadd
MENU 1
Apollo Menu
STARTER
A selection of snacks on a wooden board
MAIN COURSE
Traditional spare ribs with coleslaw, barbecue sauce and a baked potato with butter
DESSERT
Vanilla ice cream with salted beer caramel and crumble
BEER OPTION
Apollo's four types of home-brewed beer ad libitum
3 Courses: 299 kr
Beer Option: 280 kr
Price per person
Minimum 10 people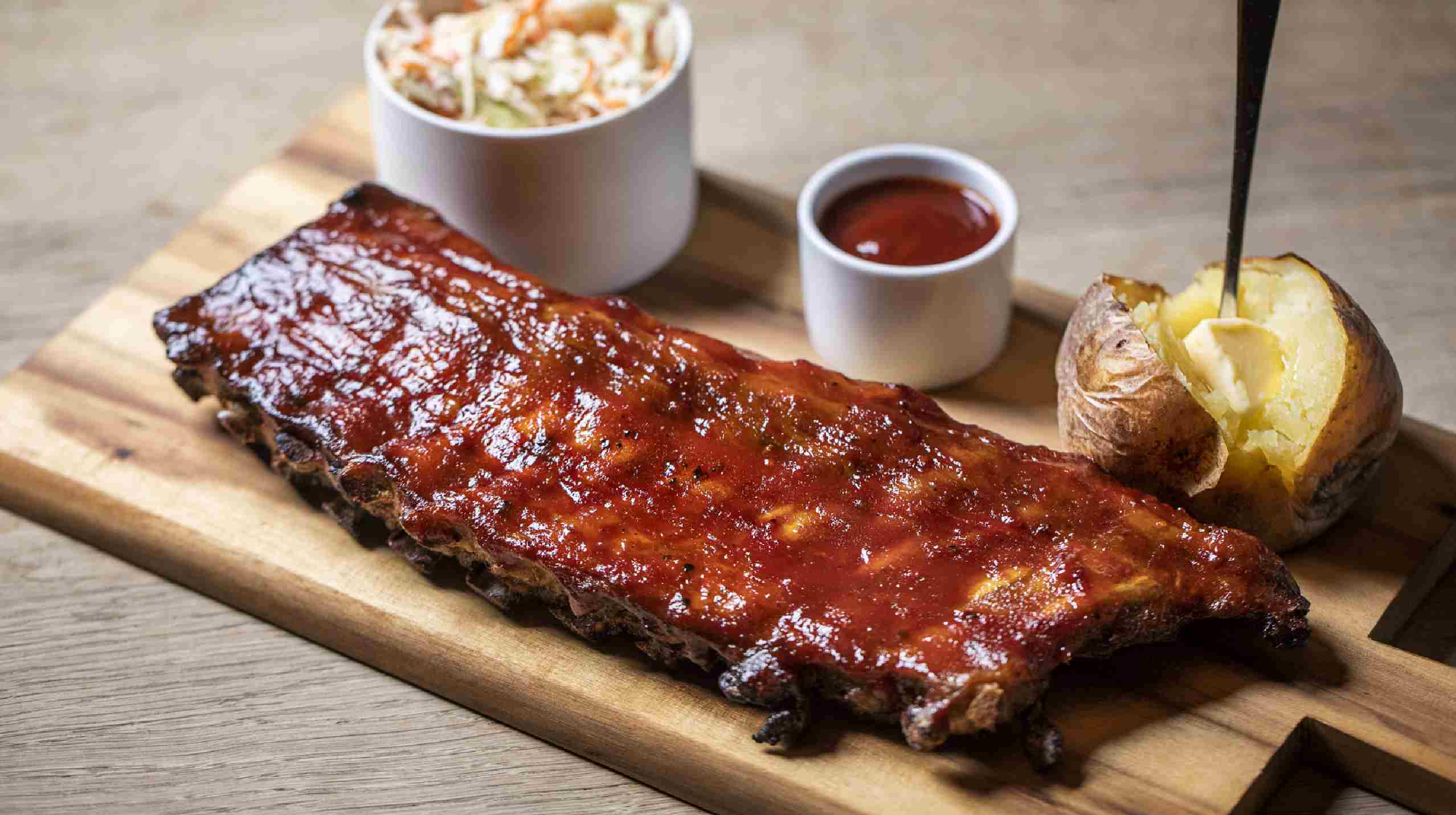 MENU 2
Get-together Menu
STARTER
Pickled Salmon
The salmon pickled according to Mrs. Damgaard's original recipe from 1971
Served with a herb salad and warm horseradish cream
Bread and butter
MAIN COURSE
Whole Sirloin Roast, approx. 200 g
With a cabbage salad with beetroots, sundried cranberries and crisp seeds
Served with potatoes of the season and French fries,seasoned butter and sauce
DESSERT
Gourmet ice cream
A selection of ice cream and sorbet from the Joachim Kastberg Icery with a crisp garnish
3 Courses: 349 kr
Price per person
Minimum 10 people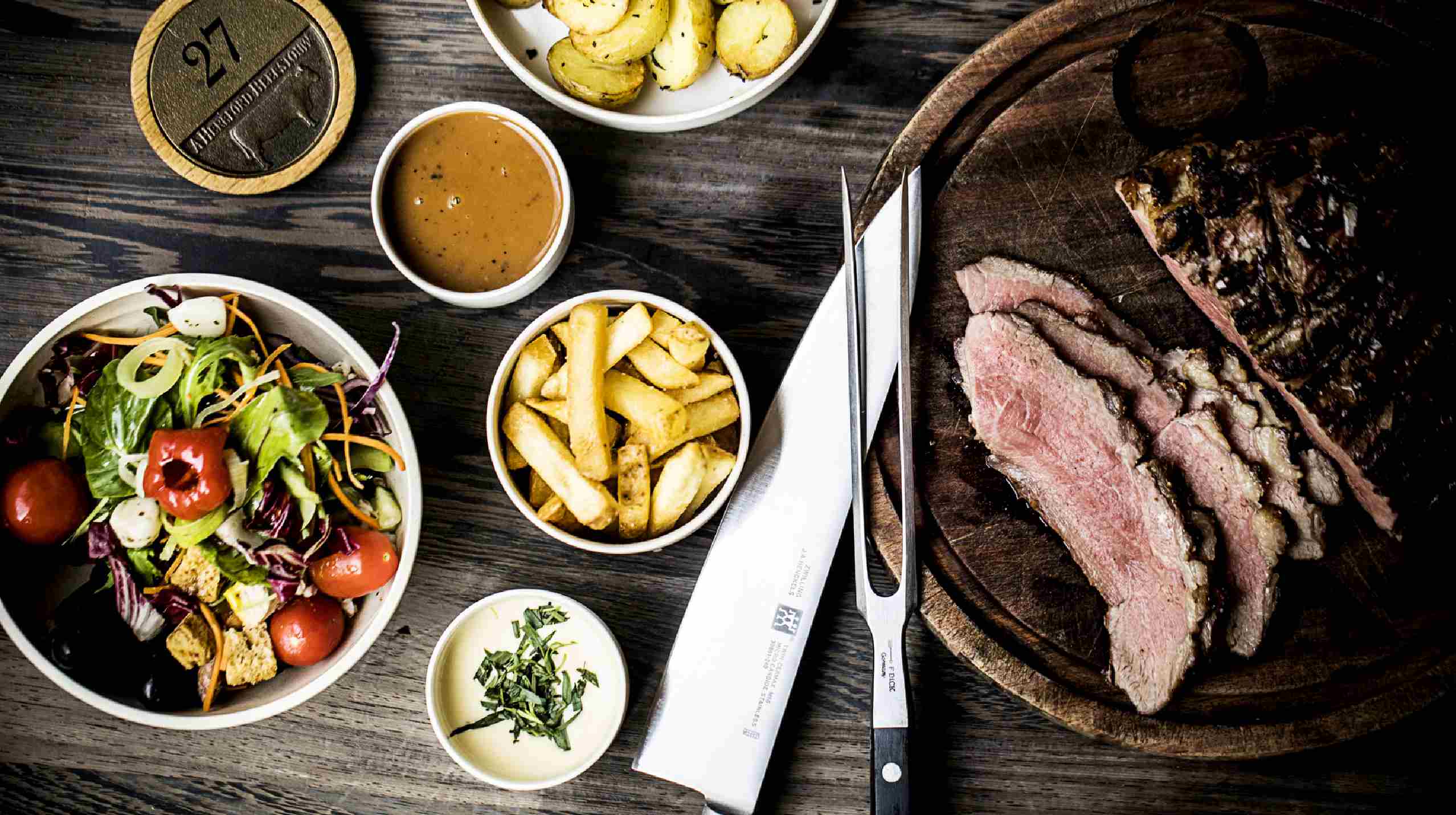 MENU 3
A Hereford Beefstouw Menu
Create your own 2 or 3 course dinner from the following dishes:
STARTERS
Pickled Salmon
(A Hereford Beefstouw Signature Dish)
The salmon is from the Faroe Islands and is pickled according to Mrs. Damgaard's original recipe from 1971
Served with a mustard dressing, cumin bread and butter
or
Carpaccio of Beef
with olives, Parmesan, lemon and warm bread
MAIN COURSE
Sirloin steak, approx. 200 g - grilled to your liking
Served with your choice of sauce and potatoes
DESSERTS
A Hereford Special
(A Hereford Beefstouw Signature Dish)
Vanilla ice cream, raisins marinated in rum, ginger, whipped cream, powder coffee, and Caloric liqueur
or
Mrs. Damgaard's apple cakeWith almonds and macaroons
2 Courses: 349 kr
3 Courses: 399 kr
Salad Bar: 55 kr
Price per person
Minimum 10 people
If you want a larger steak, the price is kr.50 extra per 50 g
Wine Options
BASIC
House white wine
House red wine
Home-brewed beer
Soft drinks
3 hours ad libitum: 295 kr
3 glasses: 180 kr

SPANISH
White: Albariño, Lagar de Costa (Raix Baixas)
Red: Proelio, Rioja Crianza or
Red: Trus Reserva, Ribera del Duero
3 hours ad libitum: 395 kr
1 gl. white & 2 red: 225 kr

ITALIAN
White: Soave, Vicentini Agostino, Verona
Red: Tyrannus, Primitivo di Manduria or
Red: Chianti Classico, Bandini, Villa Pomona, Tuscanyr
3 hours ad libitum: 425 kr
1 gl. white & 2 red: 295 kr
OVERSEAS
White: Mornington Peninsula, Chardonnay, Yabby Lake, Australia
Red: Nikela, Grangehurst Winery, South Africa or
Red: Cabernet Sauvignon, Seven Falls Cellars, USA
3 hours ad libitum: 450 kr
1 gl. white & 2 red: 300 kr
FRENCH
White: Chablis, Dauvissat, Bourgogne
Red: Ségla, 2. vin de Château Rausan Ségla, Margaux or
Red: Château Chantalouette, 2. vin de Ch. de Sales, Pomerol
3 hours ad libitum: 495 kr
1 gl. white & 2 red: 330 kr
DE LUXE
White: Meursault, Clos de Corvées Citeau, Chavy, Bourgogne
White: Pouilly Fuissé, Nectar, Roger Lassarat, Bourgogne
Red: Nuits St. Georges, J. Tardy & Fils, Bourgogne
Red: Châteauneuf-du-Pape, Hautes Brusquières
Red: Arnione, Bolgheri, Campo Alla Sughera, Toscany, Italy
Red: Barbaresco, Cotta, Sottimano, Piemonte, Italy
3 hours, ad libitum: 750 kr
One type of white and one type of red wine

Ice water is included with all wine options
All prices are per person
SUNDAY ROASTadd
SUNDAY ROAST

A Whole Sirloin Roast - Approx. 1 kg.
Served with Potatoes of the Season. French fries. Hereford Sauce Bearnaise or Pepper Sauce. Bread.
Total Price: 595 kr.

We recommend pre-ordering, as the cooking time is approx. 45 mins. The offer is valid every Sunday.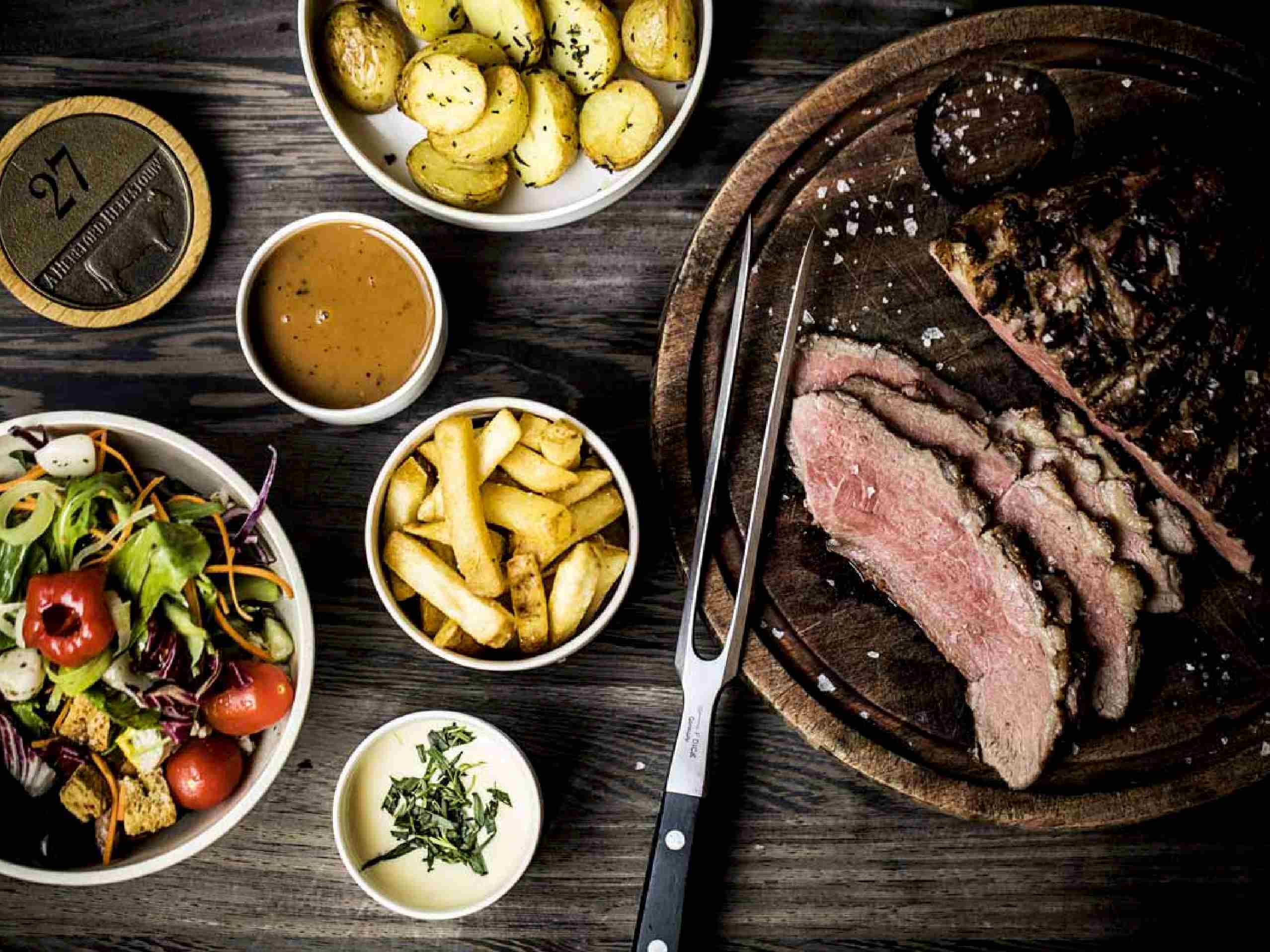 Prices in Danish Kroner. All prices include VAT and service.
Prices are subject to alterations and misprints.
Commercial cards, issued within or outside of EU/EØS and private cards issued outside EU/EØS will be surcharged with a fee, which will be shown on your receipt. The fee rate may vary depending on the type of card and the country of origin.